W3076RIB
102 RM
​
Monsanto Company is a member of Excellence Through Stewardship® (ETS). Monsanto products are commercialized in accordance with ETS Product Launch Stewardship Guidance, and in compliance with Monsanto's Policy for Commercialization of Biotechnology-Derived Plant Products in Commodity Crops. Only commercialized products have been approved for import into key export markets with functioning regulatory systems. Any crop or material produced from this product can only be exported to, or used, processed or sold in countries where all necessary regulatory approvals have been granted. It is a violation of national and international law to move material containing biotech traits across boundaries into nations where import is not permitted. Growers should talk to their grain handler or product purchaser to confirm their buying position for this product. Excellence Through Stewardship® is a registered trademark of Biotechnology Industry Organization.

B.t. products may not yet be registered in all states. Check with your seed representative for the registration status in your state.

IMPORTANT IRM INFORMATION: RIB Complete® corn blend products do not require the planting of a structured refuge except in the Cotton-Growing Area where corn earworm is a significant pest. SmartStax® RIB Complete® corn blend is not allowed to be sold for planting in the Cotton-Growing Area. DroughtGard® Hybrids with RIB Complete® corn blend the refuge seed may not always contain DroughtGard® Hybrids trait. See the IRM/Grower Guide for additional information. Always read and follow IRM requirements.

ALWAYS READ AND FOLLOW PESTICIDE LABEL DIRECTIONS. Roundup Ready technology contains genes that confer tolerance to glyphosate, an active ingredient in Roundup® brand agricultural herbicides. Agricultural herbicides containing glyphosate will kill crops that are not tolerant to glyphosate.

DroughtGard®, RIB Complete and Design®, RIB Complete®, Roundup Ready 2 Technology and Design®, Roundup Ready®, Roundup®, SmartStax and Design®, SmartStax®, and VT Double PRO® are trademarks of Bayer Group. LibertyLink® and the Water Droplet Design® are registered trademarks of BASF Corporation. Herculex® is a registered trademark of Dow AgroSciences LLC. Respect the Refuge and Corn Design® and Respect the Refuge® are registered trademarks of National Corn Growers Association. All other trademarks are the property of their respective owners.
These ratings are useful as indicators of potential product performance under normal conditions. They should not be considered a guarantee of future performance.
W3076RIB Overview
Versatile hybrid with outstanding performance across enviroments
Strong-rooted plant that maintains stalk integrity
Robust plant with high yield potential — a great silage option
Placement/Management
Will perform well at high populations, but has semi-flex ear to adapt to a wide population range.Performance enhanced by fungicide application. Best on light to dark, well-drained soils.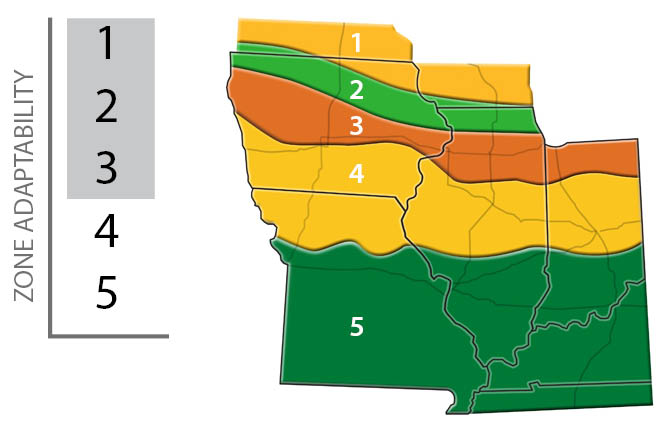 Soil Adaptability
Rating
Soil Category
E

Light Soils

LOW CEC (<10); OM <1.5%; low water-holding capacity; non-irrigated sand; marginal productivity; drought prone.

E

Medium Soils

CEC 11–18; OM 1.5-3.5%; well-drained; silt loam; high productivity.

E

Heavy Soils

High CEC (>18); OM >3.5%; poorly-drained; high clay content; gumbo; muck.

G

Poorly-Drained Soils

Soils that have the potential to remain saturated for prolonged periods; side hill seeps; gumbo muck.
Plant Physiology and Health
| | |
| --- | --- |
| Trait(s) | VT2P |
| GDUs To Black Layer | A, 2600 |
| Days to Pollination | 73 |
| GDUs to Pollination | A, 1330 |
| Early Vigor | 8 |
| Early Canopy | - |
| Plant Height | MT |
| Stalk Strength | 7 |
| Root Strength | 7 |
| Green Snap Resistance | 7 |
| Drought Tolerance | 8 |
| Staygreen | 7 |
Ear/Grain Characteristics
| | |
| --- | --- |
| Ear Flex | SF |
| Ear Length | 8 |
| Ear Height | MH |
| Kernel Rows | 16-18 |
| Test Weight | 7 |
| Drydown | 7 |
Pest/Disease Ratings
| | |
| --- | --- |
| Goss' Wilt Tolerance | 6 |
| Gray Leaf Spot Tolerance | 6 |
| NLB, Race O, Tolerance | 6 |
| Stewarts Leaf Blight Tolerance | - |
| Anthracnose Tolerance | 7 |
Placement Considerations
| | |
| --- | --- |
| Continuous Corn | - |
| Rimsulfuron Tolerance | N |
Numerical ratings are based on comparisons among Wyffels hybrids of like maturity where 1 = Low, 5 = Avg, and 9 = High expressions of a trait